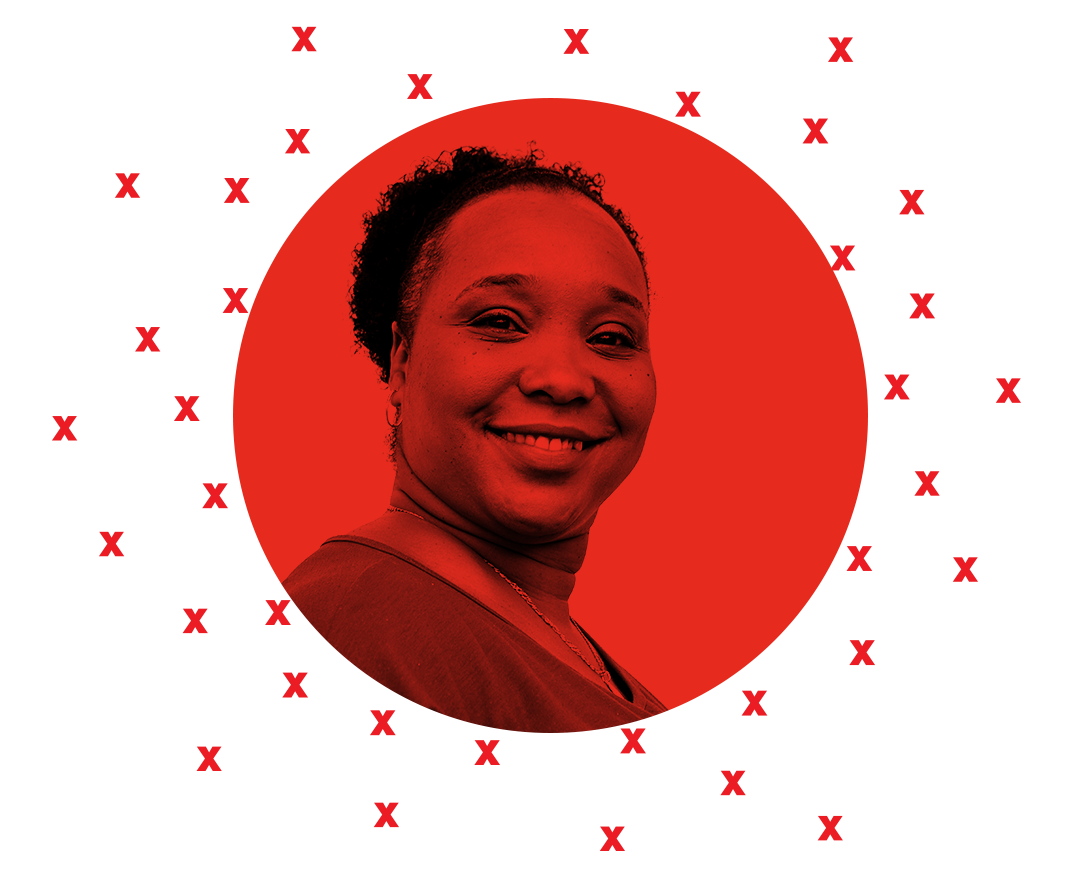 Kerina Brereton-Thomas
On April 19th 1981, the world was graced with the birth of this bouncing baby, who later became known as Kerina Brereton. Her inability to stand still at the sound of any rhythm lead to her enrollment as a member of the Les Enfants Dance Company at the tender and impressionable age of four years old. Taking the company by storm, Kerina made her stage debut in 1986; just five years old. Since then she has performed in all of Les Enfants Company productions that followed. In 1987, she appeared on "Twelve and Under", placing third in the semi-final round of competition. At school, San Fernando Girls' Anglican School, she also actively pursued dance, receiving a Certificate of Excellence at the National Junior Arts Festival in 1992. Still a student, now of St. Madeline Junior Secondary School Kerina made her international debut in 1993, touring Caracas, Venezuela with Les Enfants. Continuing to excel, this determined young sprout successfully auditioned and became the youngest member of the National Dance Association of Trinidad and Tobago at that time.
In 1997, Kerina was appointed by Ms. Joyce Kirton as the Rehearsal / Training Director of the Les Enfants Dance Company, a position she took very seriously, demanding perfection from every performer. 2006 saw her graduate from the University of the West Indies with a certificate in Dance and Dance Education during which she had the distinct honor of working under Mr. Andre Largen and Ms. Hazel Franco. Here, she became a member of the University Dance Ensemble, performing in Wisconsin, USA in 2009. She then enrolled at the University of the Southern Caribbean where she is currently pursuing a Bachelor of Science in Psychology.
Kerina is a wife and a mother of two. She is currently employed with the Ministry of Education as a Business Operations Assistant 1 attached to Tunapuna Boys' R.C. School. She is also a former member of the Girl Guides Association of Trinidad and Tobago where she served as a leader and as the Youth Representative of the Executive Committee. This active life was halted on April 1st 2014, when she was involved in a motor vehicle accident on the Priority Bus Route. She suffered a fractured and dislocated right shoulder, three fractures to her neck, a large laceration to her left calf resulting in 65% nerve damage in the lower leg and the above the knee amputation of her right leg. However, driven by a passion and a love for dance; a fire that was set some 33years ago, Kerina has returned to her first love and is once again gracing the stage. Special mention must be made to the strong support group that has surrounded her and to Ms. Abeo Jackson who gave life to her return to the stage.
Facebook – Kerina Shani Brereton
Instagram – Kerina Brereton
---

Chantal Esdelle (left) / Deneka Thomas (right)
Chantal Esdelle
Chantal Esdelle is a graduate of Berklee College of Music B.Mus and York University, MA. Since her decision, at age eight, to become a musician Chantal has dedicated her life to creating and performing Caribbean music. Her journey began when, at age four, she became a student of Louise McIntosh's Pan Pipers Music School. There she studied piano and steel pan and began her voice study. By age eighteen Esdelle had been awarded the Ffrench trophy for the most performing musician at the Trinidad and Tobago Music festival after having; won the Steelband Pan is Beautiful Music festival solo competition (1992), won the piano 15 and under 19 solo championship at the Trinidad and Tobago Music Festival, been awarded the winner of the open soprano north class, served as accompanist for the BAHS senior choir, won a senior choir class with Pan Pipers' Senior Choir.
Since then Esdelle has used her classical training as a grade 8 voice and piano Royal Schools student, her contemporary study at Berkelee and her performance under local maestros such as Andre Tanker, Clive Bradley, Earl Rodney, and Fortunia Ruiz to; compose, perform and produce two albums for her jazz group Moyenne, compose the underscore for three films, perform at some of the Caribbean Region's most noted Jazz Festivals, produce a Caribbean jazz radio programme, teach at two tertiary and one secondary school institution, arrange for steelband ensembles. Since 2014 Esdelle has been developing her company, the Ethnic Jazz Club's "Jazz Studio" in Port-of-Spain, a performance space for Caribbean Jazz musicians. To date the space has hosted over twenty presentations and has been honoured with performances by Clive Zanda (Trinidad and Tobago), Earl Rodney (Trinidad and Tobago), Emir Santa Cruz (Havana).
---
Deneka Thomas
Deneka Thomas is a 24-year-old Spoken Word Poet, Writer, Teaching Artist, Photographer and an aspiring author with an urgent voice that raises against gender inequality, advocacy for women, encourages self and body image appreciation and exhorts environmental awareness.
Deneka is an Artist and Performer with the Spoken Word Based Company The 2 Cents Movement and a Teaching Artist with the Trinidad and Tobago extension of the Brooklyn Based Theatre company Girl Be Heard.
She is a creator that is bent on questioning the norm and going beyond the status quo. Her writing is a happy marriage of campaigning for women's rights and a pure fascination of the earth and its ecology. These combine to create her personal brand of ecofeminism. However, her work is a force that challenges and probes everything that concerns existing. She is a Verses Bocas Poetry Slam 2015 Finalist and a First Citizens National Poetry Slam Finalist 2016 and currently developing the manuscript for her first collection of poems.
---

Ruth Osman
Trinidad-based Guyanese singer/songwriter and flautist, Ruth Osman, has been performing since childhood. Her passion for music has led to her appearance in a variety of events – from the church stage to national and international concerts. Over the past decade, she honed her skills in the jazz genre, performing primarily with the jazz trio Jacoustik and then with various musicians and bands. In 2013, she teamed up with producer Jason Dasent to record her debut album, Letting Go.
In November 2016, Ruth worked with producer Keon Jeffrey of Klassic Music Ent. and a_phake of Future Crab Studios to produce her second album, Elemental. The album, dubbed 'a 10-track gem' by the Trinidad Guardian, includes collaborations with jazz guitarist Theron Shaw, singer/songwriter Collis Duranty and saxophonist Courtney Fadlin. Armed with a BA in English Literature and a Postgraduate Diploma in Arts and Cultural Enterprise Management, Ruth has also developed a writing career as a speechwriter, freelance feature writer and poet. Her poems, when featured in her performances, add another dimension to her music.
She now performs alongside pianist Wayne Guerra and percussionist Sheena Richardson, and together they create a musical experience that has been called 'original', 'entrancing' and 'intense'.
Her inspiration, she says, comes from the desire to "help us connect with each other and with the transcendent beauty of the human experience".
Comments are closed.